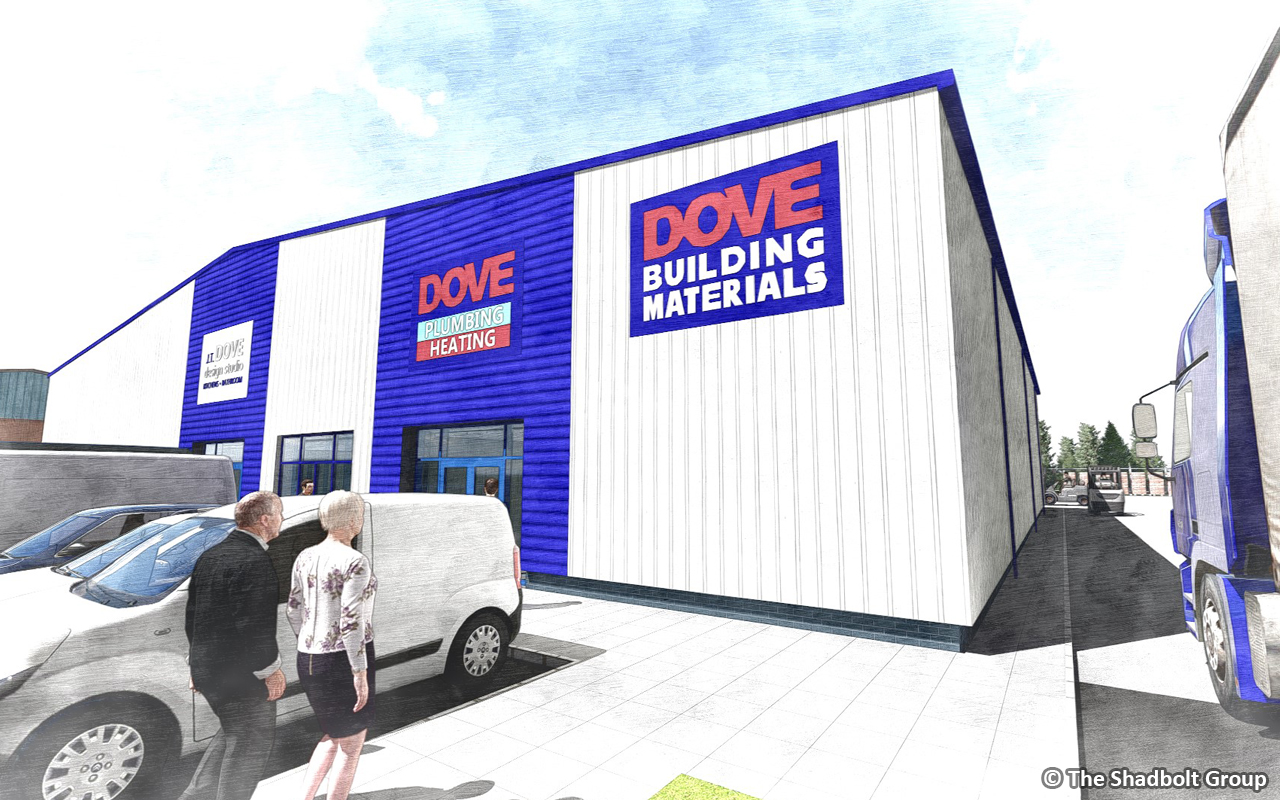 Professional construction services firm The Shadbolt Group is set to deliver a new £1.5m depot in Consett for building and plumbers merchant, JT Dove.
Due to start on site in January 2018, the new depot will be the 18th site for JT Dove and is set to create 12 new jobs.
The 148-year-old firm, which employs over 225 people across the region, has grown swiftly in recent years, adding several stores to its portfolio including Hetton and Darlington in County Durham, as well as Alnwick and Seahouses in Northumberland.
Gateshead-based Shadbolt Group is a multi-disciplinary consultancy, which was established in 1981 and employs 26 staff. The firm is providing a range of construction expertise including architectural, geo-environmental and engineering services, in order to facilitate the development of the new facility at Hownsgill Park, on behalf local developer, Project Genesis.
Team Build Construction Ltd has been appointed as main contractor for the new 11,000 sq.ft depot.
Lee Butler, director at The Shadbolt Group said: "We have been heavily involved in a number of projects in Consett since the 1980's on behalf of Project Genesis. The investment that has been made has had a significant impact on the town and surrounding areas and we are proud to be involved in another project, which will create further employment opportunities. This scheme illustrates the range of services we can offer clients from under one roof to streamline the process for developers and occupiers alike."
Project Genesis was formed in the 1980's following the closure of Consett Steel Works to develop redundant land and has facilitated over £150 million worth of development, creating hundreds of jobs in the process.
Steve Robinson, managing director of JT Dove said: "We are very excited to be opening a new depot in Consett, this latest addition forms part of our sustainable growth strategy. This site will offer the people of Consett a full range of building materials, plumbing and heating supplies and a large kitchen and bathroom showroom with full design facilities.
"We already deliver to the Consett area from our sister branches, but we believe there is further growth to come and our existing customer base is delighted that we have decided to make this investment, so we are very optimistic."
Shadbolt's previous projects in the Consett area include Derwentside College, Tesco Superstore, Franks Factory Flooring, Absolute Civil Engineering Head Quarters and a number of housing schemes. The firm is also starting on site with a purpose-built 11,585sq.ft depot at Hownsgill for Go-Ahead in January.