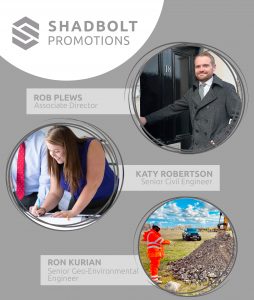 SHADBOLT GROUP are thrilled to announce the following promotions within our company.
Following our annual review, we have awarded several promotions within our company to existing staff:
Rob Plews, Associate Director
Katy Robertson, Senior Civil Engineer
Ron Kurian, Senior Geo-Environmental Engineer
Mike Taylor, Director at Shadbolt Group, said: "All three of these promotions are thoroughly deserved.
"These three staff have worked extremely hard during their time with the company and we wanted to show our appreciation for the hard work and dedication they put in."
As well as recent promotions, we have also recently appointed two new members of staff, Stephen Fisk, Associate and Habib Ahmed, Senior Civil Engineer, and a Graduate Civil Engineering position currently being hired.
At Shadbolt Group we pride ourselves on helping our staff reach their full potential. We welcome additional training, qualifications or development opportunities alongside work.
If you'd like to discuss current job opportunities, please call us on 0191 478 3330 or email admin@shadboltgroup.net.