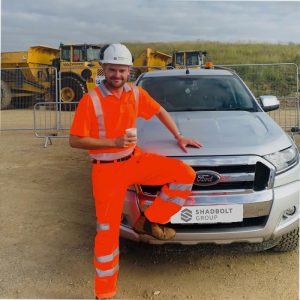 SHADBOLT GROUP is delighted to announce that one of our own has been awarded their professional Chartership and is now an official Chartered Engineer.
Rob Plews, Associate at Shadbolt Group and has been with the company since 2014. He has worked his way up the ranks from Geo-Environmental Engineer to Senior Geo-Environmental Engineer, to his most recent promotion of Associate in November of last year.
Rob, said: "I've been working hard to attain my Engineering Chartership over the past two years. I originally joined Shadbolt Group in 2014, mostly looking after contaminated land sites in Durham.
"Since I've been promoted to Associate, I still conduct my Geo-Environmental role and get out in the field where I can. However, I now liaise directly with clients and conduct more specialist jobs.
"I supervise and mentor new members of staff and am involved in the day-to-day management and logistics of the department."
The Engineering Council sets and maintains internationally recognised standards of professional competence and commitment. There are currently 230,000 engineers and technicians who have been assessed against such standards.
At Shadbolt Group we pride ourselves on helping our staff reach their full potential. We welcome additional training, qualifications or development opportunities alongside work.
If you'd like to discuss current job opportunities, please call us on 0191 478 3330 or email admin@shadboltgroup.net.