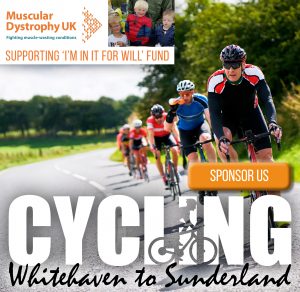 WITH less than two months until we take on the C2C Whitehaven to Sunderland challenge, we need your support by SPONSORING US today!
On June 21st cyclists from Shadbolt Group will be setting off on a 3-day cross-country cycling challenge, with over 3,600 metres of climbing.
Why you may ask? Although we participate in the 'Cycle to Work' scheme, the majority of our staff have never taken on a route quite like this! However, we signed up to the challenge in order to rally up donations towards Muscular Dystrophy charity – 'I'm in for Will'.
The charity was set up by close friends of Shadbolt Director, Lee Butler, when their son was diagnosed with Duchenne muscular dystrophy at the age of three.
Through the support of friends and family, over £44,000 has been raised to help with vital research. Read more about Will's condition here: https://www.musculardystrophyuk.org/get-involved/family-funds/funds/im-in-for-will/
To donate visit our Just Giving page here: https://www.justgiving.com/fundraising/shadbolt-group