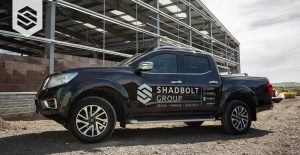 Following the launch of our new brand and website, the directors of Shadbolt Group explain the story behind the process…
Shadbolt Group was originally established in 1981 and over the past 37 years we have had the pleasure of working on some of the largest construction projects in the North East. Our expertise also continues to take us outside of the region – we are increasingly working in the south of England and on occasions overseas.
We are proud to say that over 80% of our business comes from repeat custom and recommendations. However, whilst our clients know us well, we identified a need to raise awareness of the services we can offer to a wider audience as well as highlight some of the fantastic projects we have worked on.
In recent years, as the business has evolved, there has been an increasing desire for us to review the image of the business and reconsider how we present Shadbolt Group to our clients, prospective clients and intermediaries.
At the start of the year we took the decision to invest in a new brand and website that better reflects our services, expertise, culture and the direction of our business. Whilst the exercise required investment in both time and money, the process also challenged our views on some important issues. We have given careful consideration to various aspects of the business including our aspirations for the future and how we differ from our competitors.
Our new brand helps us to illustrate the mix of services we offer as a Group but also gives each of our four departments their own individual identities.
Our ability to work on projects collaboratively or completely independently is a crucial aspect of our business and is something that we have tried to illustrate as much as possible. Whilst we can offer full turnkey solutions we can also work alongside a client's existing team offering a single area of expertise.
Today we have a very strong team of 25 staff who have a significant level of combined experience and skills. We are keen to make sure our new website demonstrates this so that clients have a better understanding of our business and the depth of our skills.
Our new website also enables us to demonstrate a wide selection of projects we have undertaken and gives a good insight into the individuals within our senior team. The investment we have made in the rebrand demonstrates our long-term commitment to our staff, clients and the region. Our new, modern, fresh outlook reflects the energy and enthusiasm of our staff, whilst the website clearly demonstrates the core values upon which the business was founded in 1981.
Please take a few minutes to have a look around our new website – we'd love to hear what you think. Please send any feedback to: admin@shadboltgroup.net