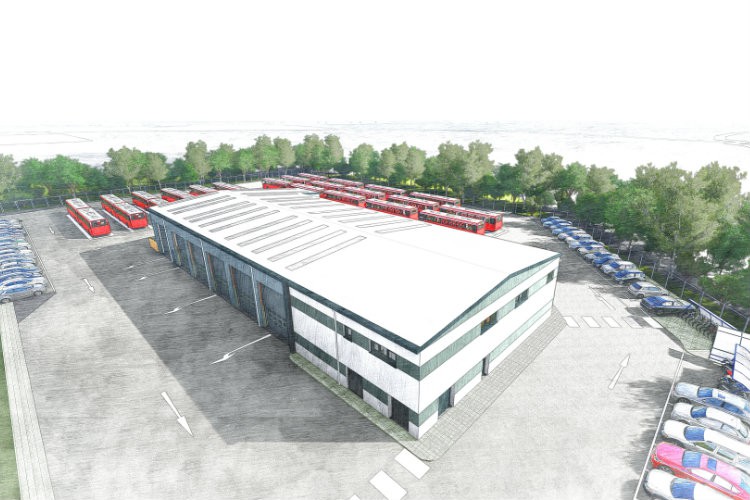 The Shadbolt Group and Consett based development company Project Genesis Ltd, are helping the region's largest bus operator, Go North East to relocate its Stanley depot to a new state-of-the art facility.

The award-winning bus company received planning approval from Durham County Council in November to build a new high-specification depot on Hownsgill Industrial Estate in Consett.
The purpose-built 11,585 sqft depot designed by Go-Ahead Group's property team in conjunction with the architectural team at The Shadbolt Group, will include a lean engineering facility to streamline processes and make vehicle maintenance more efficient, a full-recycling vehicle wash and spill-free refuelling system.
The Shadbolt Group is providing a full range of professional construction services to help deliver the project including structural and civil engineering, project management, a principal designer service and environmental engineering.
Lee Butler, director at The Shadbolt Group said: "We are very pleased to be involved in this project on behalf of Go North East. As a company we are uniquely positioned to be able to provide a considerable width of services under one roof, which helps deliver successful projects on time and budget with minimal disruption to our clients.
"It is anticipated that the new facility will open in February 2019 and a total of £3.5m will be spent on building and fitting out the new depot. The scheme should have a positive impact on the economy in Consett and surrounding areas."
Kevin Carr, managing director of Go North East, said: "After nearly a century in Stanley this planning approval marks a momentous occasion in Go North East's history and we are excited to start breaking ground on the site in Consett.
"We've had many happy years in Stanley, but looking ahead we welcome the opening of a new depot that incorporates top-quality design, more efficient features and better alignment to our brand vision, beliefs and attitudes. We want all our team members to be proud to be part of Go North East and this depot will certainly give them something to be proud of."
Project Genesis has undertaken a significant level of rejuvenation in the Consett area in recent years by way of a strong and successful working relationship with the team at The Shadbolt Group.